Drive to Spiti Valley During Winters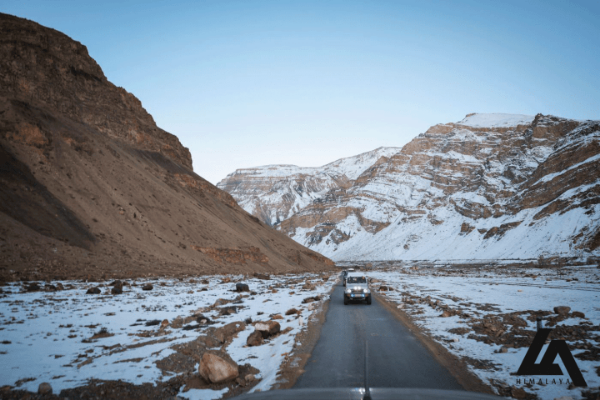 This might sound an outlandish idea to visit the Spiti valley in the winter months but this part of Zanskar & Great Himalayas is a soulful retreat for a Himalayan lover. The beauty of winter in the Himalayas lies in no crowd, snow-covered terrains, no electricity, and no internet — absolute peace.
4 reasons for visiting Spiti in winter
Less to no crowd: You can admire the pure scenery of the white desert mountainscape. Experience the sound of silence and slow pace of mountain life in sync with snowflakes falling softly on the ground.
Experience the Spitian lifestyle: Learn how people of Spiti survive and thrive in bone-chilling temperatures and hostile environs. Stay in Spitian homestays offer a taste of local cuisine and essential skills for surviving the mountains.
Travel on a shoestring budget: Accommodation and food will be cheaper than the peak season of July-September.
Whitescapes of Spiti valley: Winter landscape of the Himalayan mountains is one of the best enlightening experiences one can have. Experiencing live snowfall for the first time should be on #1 on your bucket list.
How To Reach Spiti Valley in Winters?
Chandigarh to Shimla: Drive on National Highway 5 ( Chandigarh - Kalka - Solan - Shimla) Distance 115km
Shimla to Narkanda: Around 2 hours drive. Distance 55km
Narkanda to Rampur Bushahr: 2 hours Drive. Distance 66kms on NH5
Rampur Bushahr to Powari: Distance 88 km on NH5( A road diverges from Powari to Reckong Peo & Kalpa)
Powari - Nako: Around 3 h drive (100 km) via NH505
Nako - Tabo Monastery: Around 2 hours drive (63.0 km) via NH505
Tabo - Kaza: Around 1-hour drive: Distance 50km via NH505.
Winter drive to Spiti Valley
It gets really cold (-20°C to - 30°C) out there. Starting a diesel vehicle gets really taxing especially in the morning when the temperature is low. Sometimes you need to keep the engine running the whole night long. Make sure your fuel tank is full or at least more than half and carry a backup battery with you.
Comments
There is 1 comment made on this article.
Add Your Comment
Use the following form to leave your comment on this article.