Explore the Assam Tourists Places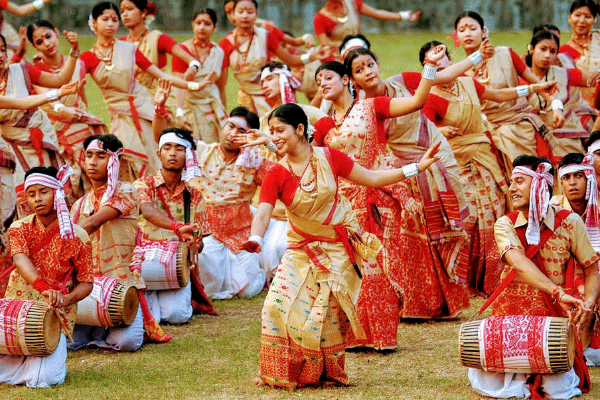 Covering the culture and diversity of Assam, the places where the morning start from a fresh Assam Tea and day filled with a Bihu Dance  (Famous Assamese Dance) with wildlife tours at Kaziranga National Park and Manas National Park where the direct roaring with face to face with wild Tiger and a single horn rhino that surrounded your jungle jeep safari.
How to reach Assam?
You can easily reach Assam from Calcutta, Bangalore, Mumbai, Delhi and other major cities of India via Plane. Assam also has a well-connected highway where you can travel via train and Via Roads. Roads are well maintained and smooth you can reach Assam without any squabble.
Why Assam is marked as one of the best tourist places?
Believing the blessing of nature so-called Assamis emphasized by the mighty Brahmaputra River flowing down from Tibet and blessing the landscape. Not only nature but also Assam is rich in their culture and savory cuisine an attractive art and craft.
Guwahati city of Assam also stands as the gateway for prominent places of the North East Region. Guwahati is also famous for Old temples like Kamakhya temple, Umananda temple, Navagraha temple and many more.
Another reason that Assam is marked the best tourist place is for its lovely tea industries and famous for Silk Bazaar.
Let you know little about past History of Assam.
Assam's past story takes you to the world of the medieval period of Indian history. When there was emerged of people like Indo-Aryan, Austro Asiatic, and Tibeto Burman. Assam was also known as the Kingdom of Pragjyotisha Kamarupa during the first century AD and was broken into smaller states during the beginning of the second century.
After that in 13th century Assam kingdom was under the Ahom who ruled over 600 years, they maintain a historical culture and tradition, in this stage they used to write script in rocks, copper, iron, through the manuscripts and medieval texts which was found in the different region this way Assam became the most popular places for the traveler.
In Ahom Language Assam is called as "Asama", which means "peerless". Now let's move to the wonderful world of Assam Culture and their Activates. You can see in this modern age that slow day after day people are keeping their culture backward. Only a few of them are there to keep their culture side by side.
But Assam is only the state that is rich in culture. Assam culture tours will take you to the age of Ahom Kingdom where there used to be great respect of their culture, religion, and tradition, and till now you can see that tribal people of Assam had taken a great responsibility to keep their traditions alive in future also their cultural remains evergreen.
The Assamese tradition dress is very simple which is made of silk and mostly hand-loomed. Women love to wear jewelry with their dress mostly they wear motif rich Mekhela Chador or Riha- Mekhela. And men wear Suria or dhoti, and over it, they drape a chadar known as Seleng.
A culture of Assam is very rich in folk music, as it is inhabited by many ethnic groups. They celebrate lots of colorful traditional festivals, among them one of the famous and important festivals of Assam is Bihu.
Are you thinking that Assam is only famous for this much? Then you are wrong? Assam also presents a number of tourist places, with wonderful sightseeing and pleasant weather. Where you can enjoy your holiday without missing a single day.
Here are the 5 popular tourist places of Assam you should visit:
Kaziranga National Park
Kaziranga National Park is known as the heart of Assam which lies in Nagaon and Golaghat districts. This park is located at a distance of 200 km from Guwahati.
This Park is also renowned as a World Heritage Site and a home for much wildlife. People love to visit this Park and discover one of the famous wildlife names as One-Horned Rhino. When you enter this park you feel that you have come to the world of animals like think about cartoons" and some other animations movie, children love to watch it. Not only the children but also the younger and older loves to watch the animation movie.
Animation movie that you can see is in the TV screen right, you can't experience it in reality, But when you visit Kaziranga National Park you can see the varieties of wild animals in a close view with our eyes.
Morning and evening will be the best time to explore Kaziranga National Park because in this time you can clearly watch One Horned Rhino and other animals like Elephants, Tigers, Swamp deer, Gaur, Sāmbhar, Hog deer and many more. Also, you can see splashy birds singing around.
To explore all these wildlife and birds species of Kaziranga National Park You  can easily hire a safari jeep safari and Elephant Safari.
Manas National Park
This park is famous for Bengal Tiger and also known as a World Heritage Site which was declared by UNESCO. Manas National Park  known as a home for varieties of wildlife such as Assam roofed turtle, hispid hare, golden langur, pygmy hog and many more.
Kamakhya temple
This temple was built in the 10th century and located at a distance of a mere 7km from the city of Guwahati, which can be easily reached by well-connected roads. The temple is dedicated to Goddess Kamakhyaand is one of the prominent Shaktipeeth of the country.
Jorhat
Jorhat is also another beautiful tourist places of Assam, it is located on an eastern side from Guwahati, it is filled with quality swift and the city also hosts Jorhat airport for easy connectivity with the other regions of the world. And the glorious thing that you can explore in Jorhat is Shanti ashram which is also known as Assam Bangiya Saraswat Matha. 
Dibrugarh
Dibrugarh is another industrial town in North East India this state is located on the banks of river Brahmaputra. The scenery and charm of this state attract lots of people. So this place has also become one of the famous tourist places in Assam.
Majuli Island
Majuli Island is one of the largest Islands in Northeast India.  This abode land is reachable through a ferry ride from the city of Jorhat from where Neemati Ghat is 14 km away. Majuli has been one of the famous tourist places in Assam.
you can easily explore all these stunning tourist places of Assam without any complication. After visiting all these tourist places you can also easily stay in hotels In Assam. Assam also provides number of Hotels and lodges with the best and suitable accommodation where aa  traveler can easily stay with comfort. Assam presents Eco Camp with the best dining for those who love to stay in and connect with the nature surrounding. Come and enjoy your vacation in this camp. And take a wonderful memory from Assam.
If you are also planning for your next holiday to visit some of the tourist places in Assam then you should hire the best travel tour-operator, who can make your holiday more interesting and amazing.
Add Your Comment
Use the following form to leave your comment on this article.