Kuari Pass Trek: A Scenic Sojourn in the Garhwal Himalayas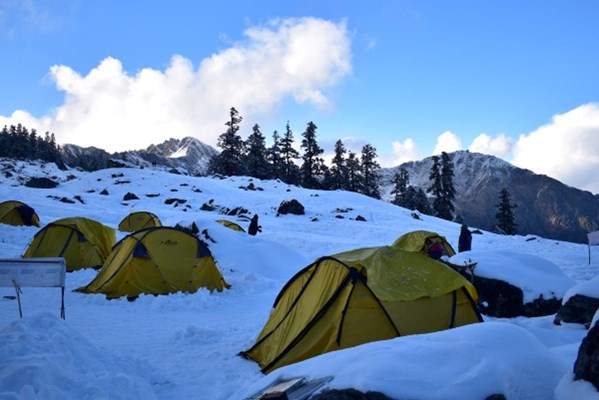 Introduction
Kuari Pass trek is a breathtaking excursion through northern India's Garhwal Himalayas. This picturesque hike in Uttarakhand combines adventure, natural beauty, and culture. The Garhwal Himalayas are famous for their rugged beauty, diversified ecosystems, and rich culture.
Kuari Pass, a high-altitude mountain pass at over 12,000 feet, offers stunning views of Nanda Devi, Dronagiri, Kamet, and Trishul. Adventurers and environment lovers from around the world come to hike in the Himalayas. This blog will cover the history, culture, route, and breathtaking beauty of this wonderful journey.
Culture and History
The Garhwal Himalayas, where the Kuari Pass Trek is, are historically and culturally significant. The Ganges and Lord Shiva are crucial to the region's mythical heritage. For decades, the Garhwali people have lived in harmony with the mountains, creating a thriving culture.
The spiritual and geographical significance of the Garhwal Himalayas can be learned from its history. Mythology and heritage lovers will love the region's old temples on mountaintops and legends about gods and goddesses.
Cultural immersion is possible as you connect with local communities and enjoy Garhwali hospitality along the walk. Understanding the local history and culture enhances the expedition, turning it into a cultural exploration.
Trekking Route
Beginning and Accessibility
Joshimath, Uttarakhand, is the starting point for the Kuari Pass Trek. Many Himalayan adventures begin in this town, which is conveniently accessible from Dehradun and Rishikesh. Trekking into the Garhwal Himalayas from Joshimath is exhilarating.
Daily Schedule
Day 1: From Joshimath, the journey through lush forests and lovely villages to the first campsite.
Day 2: Ascend through meadows and clear streams to the second campground.
Day 3: Kuari Pass offers stunning vistas of snow-capped peaks and is the trek's highlight.
Day 4: The experience ends on Kuari Pass descent.
Highlights and Obstacles
The trail has beautiful oak and rhododendron forests and high alpine meadows. Trekkers may face the weather, difficult ascents, and acclimatization issues. The rewards, including breathtaking views and a sense of accomplishment, make this adventure unforgettable.
Beautiful Scenery
Panoramas and Landscapes
For nature lovers, the Kuari Pass Trek is stunning. The trail offers stunning views of Nanda Devi, Dronagiri, Kamet, and Trishul. The snow-capped mountains and beautiful blue skies make a lovely backdrop, and the alpine air is refreshing.
Regional Flora and Fauna
The trek lets you see Garhwal Himalayan vegetation and fauna. The landscape changes constantly, from spring-bursting rhododendron woods to peaceful meadows full of wildflowers. Musk deer, Himalayan tahrs, and many birds should be watched for.
Famous Photo spots and viewpoints
Many overlooks and sites during the trek are great for taking pictures of the surroundings. Photography enthusiasts will discover endless opportunities to capture stunning photographs, from sunrises over the mountains to peaks reflected in crystal-clear mountain lakes. These sights make the Kuari Pass Trek a photographer's dream and an inspiration for nature lovers.
Trekking Seasons
The Best Time to Visit Kuari Pass
Though the Kuari Pass Trek is year-round, the optimum time to go depends on your preferences and expectations. For good weather, rich scenery, and blooming rhododendrons, late spring and early summer (April–June) are perfect. Autumn (September–November) is another popular season with bright skies, mountain peak visibility, and pleasant temperatures.
Seasonal Weather
Understanding seasonal weather is essential for a safe and enjoyable hike. Autumn is cooler and drier than summer, which can rain. Subzero temperatures and thick snowfall make winter excursions (December–March) for the brave.
Seasonal Considerations
Consider temperature, snow conditions, and hotel availability when picking a trekking season. A wonderful Kuari Pass experience requires choosing the proper season for your expedition. Each season has its own charm and obstacles.
Lodging and Facilities
Camping/Trekking Lodges
Trekkers can stay in well-organized campsites or lodges along the Kuari Pass Trek. These structures are deliberately placed to provide refuge and basic amenities. They allow trekkers to bond and enjoy the trekking community.
Water and Food Access
Trekkers are energized by full lunches at campsites and lodges. Regional specialties and vegetarian choices are common in local cuisine. Trailwater is abundant, and trekkers can refill their bottles from mountain streams after purifying them.
Trekker Preparations and Essentials
To enjoy the walk, bring the correct clothes and supplies. This includes robust trekking boots, layered gear for changing conditions, a solid backpack, and trekking poles. For safety and enjoyment, bring a first-aid kit and learn altitude sickness prevention. Trekking organizations provide extensive packing lists to ensure trekkers are prepared.
Conclusion
The Garhwal Himalayas' Kuari Pass Trek is magical. One trip combines natural beauty, cultural richness, and adventure. Snow-capped peaks, diversified landscapes, and cultural interactions with the warm-hearted Garhwali people generate lifelong memories.
If you want an unforgettable journey, visit Kuari Pass Trek. No matter your experience, the walk has something for you. It lets you escape the daily grind and reconnect with nature.
Finish the blog with personal stories or trekker testimonials. Readers can learn from those who have visited Kuari Pass, inspire their desire, and encourage them to visit this gorgeous Garhwal Himalayan destination.
Add Your Comment
Use the following form to leave your comment on this article.