Riverside Camping In Rishikesh - Memorable experience Uttarakhand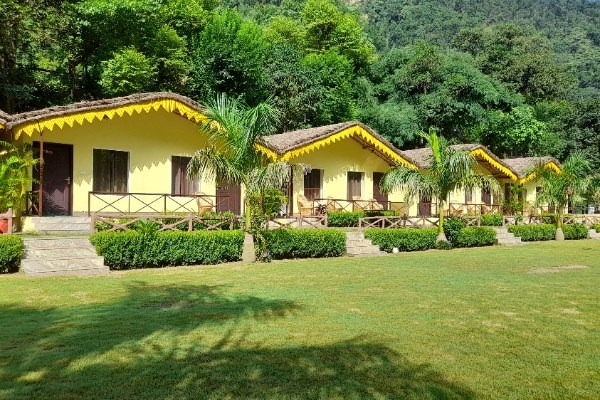 Rishikesh is a popular tourist city for adventure yoga and meditation. As we know, Rishikesh is going to be a popular day-by-day adventure city special for camping and rafting. 
There are many campsites but people love only riverside camping because they can feel with river bonfire and music at the riverside. Riverside camping in Rishikesh sounds like a fantastic idea! Rishikesh, nestled in the foothills of the Himalayas along the banks of the Ganges River, offers a serene and picturesque setting for camping enthusiasts.
Whether you're looking for a peaceful escape or an adventure-filled experience, camping by the riverside in Rishikesh has something for everyone. The sound of the flowing Ganges, the cool breeze, and the starlit sky create a magical atmosphere.
Activities like bonfires, river rafting, trekking, and yoga retreats are often part of the camping experience in Rishikesh. It's a great way to connect with nature and enjoy the tranquility of the surroundings.
Nakshatra Resort and 360 Resort are both the best riverside camping resorts in Rishikesh where you can do riverside camping. Both properties have affordable prices and the packages are good.  If we talk about the packages, they have '1 night / 2 days riverside camping' that includes stay and food.
Best time to camp in Rishikesh, Uttarakhand
The best time for riverside camping in Rishikesh is typically from late September to mid-November and then from early March to mid-May. During these periods, the weather is pleasant, and you can enjoy a comfortable camping experience.
Spring (March to Mid-May): This is one of the most popular times for camping. The weather is mild, with daytime temperatures ranging from 15°C to 25°C. The blooming flora adds to the beauty of the surroundings.
Autumn (Late September to mid-November): Another favorable time for camping. The weather is cool, and the landscape is lush after the monsoon season. Daytime temperatures range from 10°C to 20°C.
Summer (late May to August): During the summer months, the temperatures can soar, making it less comfortable for camping. Monsoon season (June to September) brings heavy rainfall, and camping may be restricted due to safety concerns.
It's always a good idea to check weather forecasts and consult with local camping organizers for the most accurate information and to ensure a delightful camping experience.
Add Your Comment
Use the following form to leave your comment on this article.