Cozy Campfires and Coastal Vibes: Alibaug Camping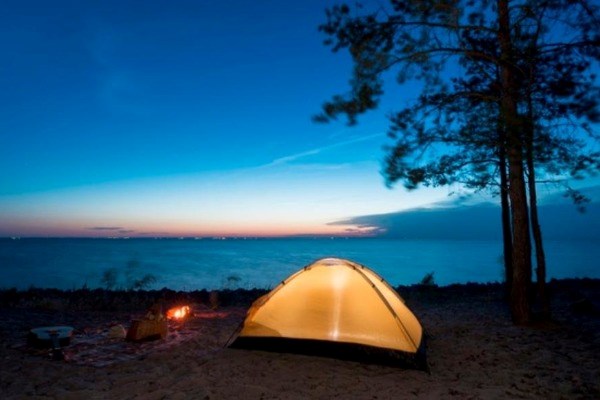 Introduction
Alibaug, a charming seaside town in Maharashtra, attracts tourists seeking a peaceful respite from city life. Camping aficionados love Alibaug for its beautiful beaches, rich greenery, and laid-back vibe. This blog will explore Alibaug camping, a magical mix of campfires and coastal moods.
Imagine a campfire burning beneath a starlit sky, waves softly lapping the coast, and a salty sea breeze. The warmth of a campfire and the invigorating seaside vibes define Alibaug camping. Alibaug has something for everyone, whether you like nature, adventure, or peace. Discover Alibaug's camping environment, where cozy campfires and coastal beauty combine.
Alibaug: Coastal Paradise
Alibaug, a few hours from Mumbai, has long been a popular seaside getaway. This beachfront jewel in Raigad combines natural beauty and historical significance.
Alibaug is known for its beautiful beaches, peaceful villages, and lush greenery. The Arabian Sea and Western Ghats make it an ideal camping spot. Forts and temples lend cultural richness to the region's natural beauty.
Alibaug is great for camping that combines relaxation, adventure, and a strong connection to nature. Its seaside appeal and tranquillity draw travelers who want to escape the every day and experience cozy campfires and coastal vibes.
Alibaug Camping Experience
Camping in Alibaug is an immersive experience that combines tranquillity and adventure. This coastal paradise has many camping alternatives for different tastes, making it accessible to anyone.
Beachside Camping: Many camping places are on Alibaug's beautiful beaches. Beachside camping is sleeping to the sound of waves, waking up to daybreak's soft, golden brightness, and feeling the fine sand underfoot. A true connection to nature is hard to recreate.
Jungle Camping: Alibaug provides jungle camping in the heart of nature for people who prefer the green canopy of trees. The Western Ghats' tropical greenery offers solitude and adventure.
Alibaug Camping offers digital detox and nature immersion. The lack of Wi-Fi and phone signals lets you relax. Campfires also build community and shared experiences. Alibaug's camping atmosphere is suitable for lone travelers, couples seeking a romantic vacation, and groups of friends on an adventure.
Cozy Campfires: Night-time Fun
Campers in Alibaug will be transformed by the Arabian Sea sunset. This nightly magic revolves around the campfire, an age-old practice that takes on new meaning in the coastal paradise. Alibaug campfires are used for storytelling, music, and making memories.
Campfires Are Important: Campfires are important in camping traditions. They symbolize unity, warmth, and our basic connection to fire. In Alibaug, a well-lit campfire gives comfort and a wonderful atmosphere for the night.
Perfect Campfire Setup: Campfires take skill. This section covers everything from choosing a place to arranging wood for a safe and attractive bonfire.
Sharing Stories, Music, and S'mores Around the Fire: Alibaug campfires are a time for storytelling, guitar playing, and s'mores. It's a time to laugh, sing, and gain a deep sense of community with other campers.
Alibaug campfires are more than simply a source of warmth; they're the center of the camping experience, providing a timeless and cozy environment that matches the seaside feelings and makes every evening a fun
By the Sea: Beach Days
Campers in Alibaug become part of the seaside beauty. Days at the beach are essential to Alibaug camping, providing a refreshing contrast to the nighttime campfires.
Living the Coastal Lifestyle: Alibaug's coastal lifestyle is relaxed and laid back. Campers can experience coastal culture by listening to the waves, walking on the beach, and relaxing. You can relax and reconnect with nature.
Water Activities in Alibaug: Adventurers can enjoy water activities in Alibaug. Swimming in pristine blue waters and thrilling water activities like jet skiing, parasailing, and banana boat excursions are available to everyone. Alibaug's coast is a water playground.
Beach Relaxation and Scenic Views: Nothing beats lying on the beach for relaxation. Enjoying a book or watching the sunset on the soft beach, nice sea breeze, and stunning coastline views is great—a quiet moment in a busy world.
Local Food and Adventures
Any trip should include local cuisine, and Alibaug is no exception. Food in the region reflects its coastal background and is delicious. Camping here isn't just about enjoying nature; you can also try Konkani food.
Sample Local Konkani Cuisine: Alibaug's seafood is fresh because of its proximity to the sea. Local restaurants and campsites provide bombil fry (fried Bombay duck), prawn curry, and sol kadhi (a tangy coconut milk drink). These foods really represent Konkani culture and coastal life.
Campfire Cooking and Barbecues: Enjoy the campfire's warmth and the waves while cooking. Alibaug camping sites often allow barbecues. Grilling fresh fish or seasoned meats over an open flame enhances camping.
Must-Try Dishes and Food Recommendations: In this area, we'll offer Alibaug's must-try dishes, where to locate the best local food, and some campfire recipes.
Conclusion
A Wonderful camping experience awaits at Alibaug, where surf and campfires mix. Alibaug is a lovely place with cozy campfires and coastal vibes. This exploration concludes with an invitation to camp in Alibaug. Alibaug has it all—water sports, seaside sunsets, and campfire stories.
Your memories of coastal beauty and campfires will last long after your tent is packed away. Alibaug's unique blend of nature, adventure, and leisure makes camping unforgettable.
Add Your Comment
Use the following form to leave your comment on this article.